InoTech™ Premium Caulking Tool Kit
Product Features

Shipping & Return

Product Reviews
Buy It Now and Get 50% OFF!
100% Money-Back Guarantee 
Perfect gift for your friends & family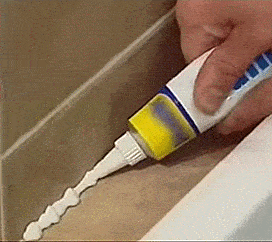 If you've ever tried to caulk any corner area, you know what a mess it can be. Sure, you can use your finger to slide along the caulk, but no matter how good you are, things are going to get messy. There is just no good way to do it. At least there was no good way to do it until now. The InoTech™ Premium Caulking Tool Kit lets you easily caulk corners and keep it all clean.
Description: 
This toolkit includes four tools that offer a variety of sealing edge sizes and shapes, easy to use for any edges, corners, and joints.
Can effectively remove the sealant and grout in minutes, and can be used time and time again. 
Features: 
Made of environmentally friendly material, fully recyclable 
4 specially designed finishing tools to create perfect edges 
Easy to maintenance, use soapy water or cloth to clean the tools 
Comes with hardy plastic storage box 
Specification: 
Material: PP + ABS 
Color: Blue 
Quantity: 4PCS/lot 
Instruction: 
Use its smooth rear side can easily remove the excess sealant from the joint, only need little contact pressure for removing 2: This tool is useful in expansion joints, first use its straight edge to smooth, and then use its fitting concave radius for deeper remove 
Its angle is suitable to clean the narrow locations 
This tool is useful when the sealant is still fresh, or you can cover some fresh sealant on the dirt to help remove, can use it in any location 
USA & Canada:
Shipping cost: $2.99 - $3.99 (depends on weight)
Secured Shipping & Insurance takes 3 - 15 Working Days for delivery.

Worldwide:
Shipping cost: $3.99 -  $5.99 (depends on weight)
Secured Shipping & Insurance takes 10 - 20 Working Day for delivery.

It will take 24-36 hours before you get your tracking number (by email). Sometimes, due to high demand, it will take more 1-2 business days to process your order before ship out to make sure your product is in highest quality.

We always keep track on every package and give customers full of information by sending update email regularly.

Return/Refund Policy:
We stand by our product and offer a 100% customer satisfaction guarantee. If you don't receive your order after 30-40 days or orders which are damaged/missing on arrival (which will likely never happen) you will get 100% refund of your money.
---